Our solutions are composed of software products and value-added services that make it a unique offer on the Italian market. Below are the most relevant features of the Software Design offer which emphasize the real advantage of the integrated solutions proposed for the airport world: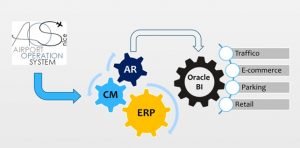 Context experience aimed at creating a vertical ERP for airports that represents a functional model that can be easily applied both in medium-large airport areas for which it has been designed and implemented that, through a down-sizing process, in local facilities expanding
Ability to analyze the real business needs related to the different models of internal organization through domain experts.
Extremely elastic customizations based on the results of the analysis phase of the needs carried out by highly experienced technical teams.
Possibility of integration with legacy systems.
Provision of new features resulting from the fulfillment of innovative requirements emerging from the airport user community.