Software Design provides its experience to provide specialized high-profile consulting services for any problem related to airport ICT.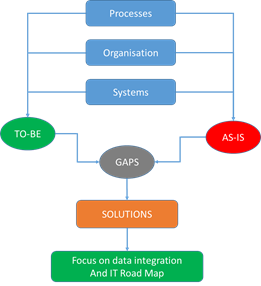 The long and mature presence in the airport business world allows the migration of experiences and success cases, the comparison with similar structures, the analysis and the weighed choice of the best possible solution starting from the company strategy and the objectives that the itself aims to pursue.
The services with the highest added value that can be personalized to cope with specific needs of each airport stakeholder, belong to the following categories:
Creation of an airport ICT Master Plan
Support for the redefinition and sizing of operating structures
Re-engineering of ICT infrastructures
Project Management Services
Trade Off Services for selecting market solutions
Each service type is approached with a common methodology based on the following steps:
Detailed analysis of the AS-IS with reference to the processes, systems and organizations involve
Definition of the TO-BE through the formalization of the target objectives for each area of interest and the categorization of the primary requirements
Gap Analysis for the identification of the uncovered areas between TO-BE and AS-IS and the qualification of the interventions necessary to meet the requirements.
Characterization of a reference economic plan built around evaluations with options
Preparation of an Action Plan for interventions planning. 
The results obtained can then be used to proceed with an implementation phase based on the technical and economic elements acquired, with regard to Project Management services, in addition to the possible involvement in any type of IT project, particular reference is to be found in the possibility of supporting the airports to the Digital transformation processes and to the transition to the Airport CDM world.